Some of Best Lodging Options in the Upper Valley
The Upper Valley is filled with many lodging options. Hotels, motels, house rentals, and more. With options for those on a business trip or those that are planning a family vacation, we can easily help you find that perfect overnight stay that will help you relax, and enjoy all that the Upper Valley has to offer.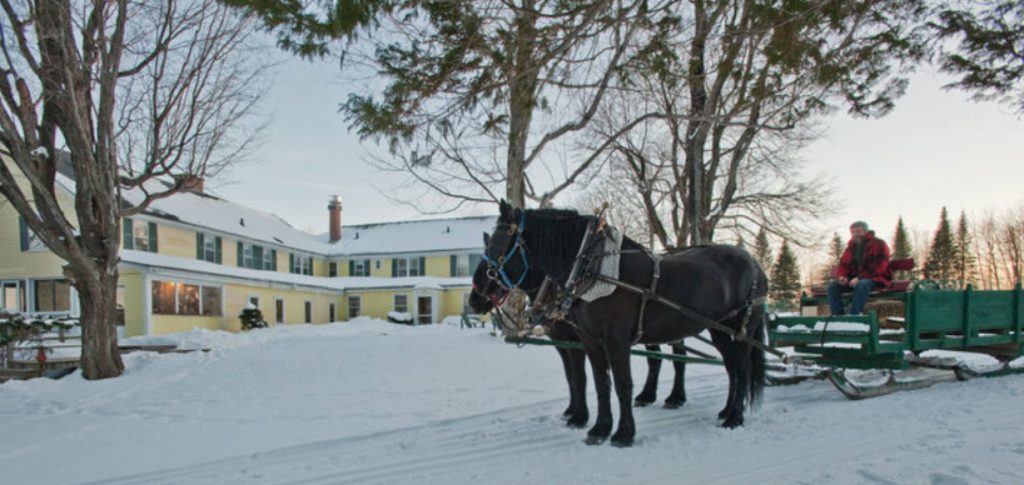 Dexter's Inn
Website: http://dextersnh.com/
Address: 258 Stagecoach Road, Sunapee, NH 03782
Contact Info: 603-763-5571 dexters@tds.net
Situated on a beautiful piece of land Dexter's Inn has much more to offer than just a place to sleep for the night. Dexter's has been one of the area's popular locations for large group activities such as weddings, family reunions, business meetings, craft workshops, church retreats, company outings, and sports camps. It's location to Lake Sunapee and Mount Sunapee ski area provides you with access to incredible recreational opportunities year-round. The list of amenities will keep you and your family busy for days:
Two tennis courts
Heated swimming pool
Volleyball, badminton, horseshoes, shuffleboard, croquet, and bocce
Recreation room featuring billiards, ping-pong, air hockey, foosball, playing cards, and darts
Kids' playroom featuring videos, games, puzzles, stuffed animals, books, and coloring books
A full-service commercial cross-country ski & snowshoe center operated by Norsk
20 acres of Dexter's land and hundreds of acres of adjoining conservation land that can be used for walking, hiking, cross-country skiing, and snowshoeing
*and breakfast is included with your stay!
"Beautiful, quaint New Hampshire inn. It has a pool, tennis, hiking trails and a game room. During the winter, it has snowshoeing and cross-country skiing. We had our wedding here and loved it! They worked very hard to make sure our day was great." Tim F.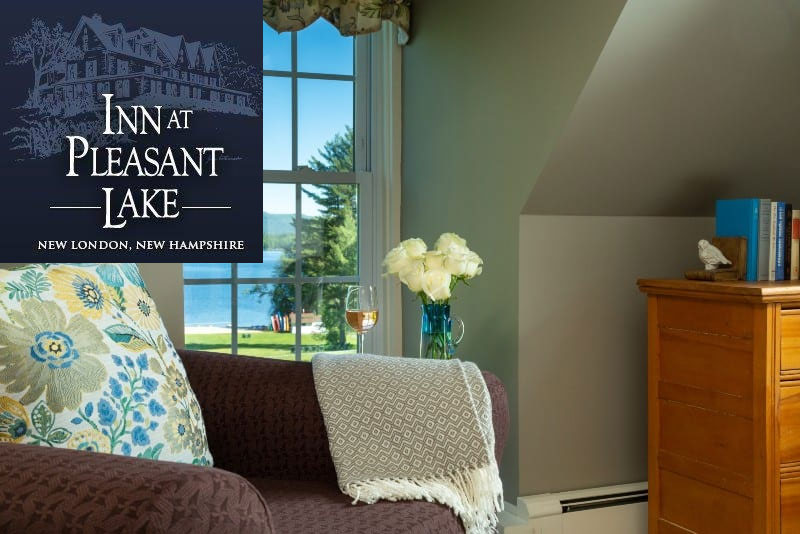 Inn at Pleasant Lake
The Inn at Pleasant Lake has been "an unforgettable New Hampshire destination over the last 150 years." This waterfront retreat has been continually recognized as one of the best inns in New Hampshire. Well known for their on-site Oak & Grain restaurant as well as an incredible wedding venue the inn is a great spot to sample all that the Dartmouth-Lake Sunapee Region has to offer. The inn has a fabulous beach on Pleasant Lake with kayaks and canoes, tennis, bocce, and volleyball courts for warmer months, and easy access to nordic and downhill skiing in the winter. Whether you are visiting for a quiet getaway, an exciting adventure, a special event, or simply an unforgettable dining experience the Inn at Pleasant Lake will not disappoint.
"An absolute gem of an inn! This warm relaxing establishment is as cozy as it gets, with a warm fireplace and games in the main room, and a side room for TV viewing. The breakfast is second to none with friendly and charming staff, and house-made bread and butter! Absolutely the best!" -Diego M
*and breakfast is included with your stay!
Crows Nest Campground
If you are looking for a wonderful camping option in the Dartmouth-Lake Sunapee Region then the Crows Nest Campground in Newport is a wonderful option. With RV camping, tent camping, and cabin rentals you can pick whatever suits your family best. Crows Nest is a great spot for families because of the recreational options on-site like trout fishing, swimming in the pool or wading pool, splashing in the pond, or exploring the river. With 34 acres on the Sugar River, the Crows Nest Campground is a great spot for a low-key, budget-friendly, family vacation that you'll remember for a lifetime.
"We LOVE this place, it has been our family tradition to go every summer, the owners are amazing and very accommodating, our dog is always welcome as long as we keep her on the leash, we all love to go down to the river and the campsites are great. Wouldn't change a thing about it. Items in the store are most definitely NOT overpriced, so whatever you forget, you can replace it. There is a grocery store not too far, and gorgeous Lake Sunapee and Mt.Sunapee are a few minutes' drive away. We are so happy we discovered it a few years ago and we have introduced many friends to it since then!" -Lenka Z.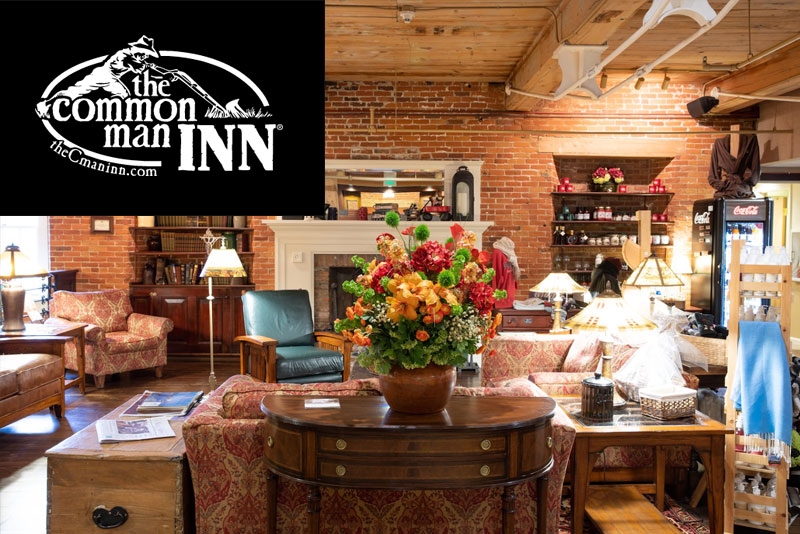 Common Man Inn & Restaurant
If it's an old New England feel you are in search of then the Common Man Inn is worth a visit. Drawing on its heritage as a textile mill, the inn features pay homage to its industrial past, you can almost hear the weaving machines that once filled the old mill. The inn also features a top-notch fitness center as well as one of their iconic New Hampshire Common Man Restaurants, which serves up some of the best American style comfort food in the states. The Inn combines modern amenities (hello room service!) with nods to its architectural and historic origins. Ask anyone to suggest a place to stay in the region and the Common Man Inn & Restaurant in Claremont is sure to be on the top of their list.
"Amazing, Luxurious & Relaxing! Everything you can expect from a Common Man Inn. The river view Is breathtaking. Feather topped comfy beds - delicious room service - fun downtown to explore and many outdoor activities nearby. Staff was extremely helpful and friendly. New Hampshire at its finest." - Lori C.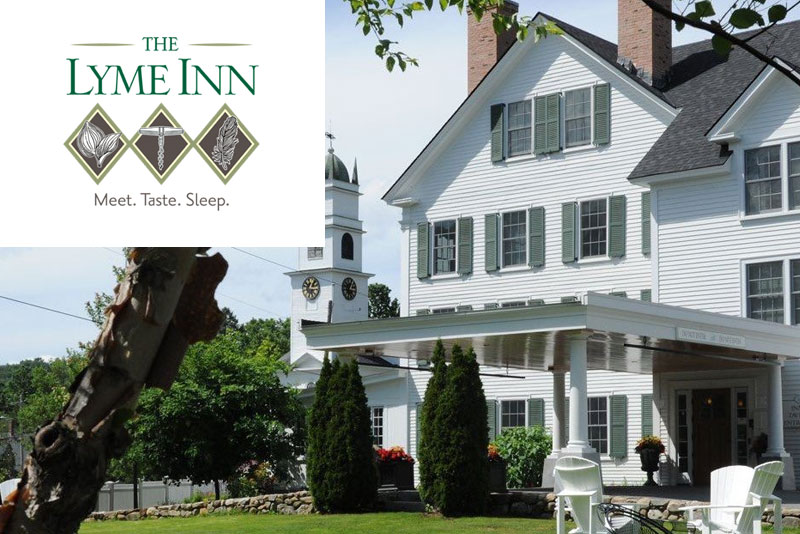 The Lyme Inn
When you visit the Dartmouth-Lake Sunapee region there are so many off the beaten small towns that are easy to overlook. Unlike its more well-known and populated neighbor, Hanover, NH, Lyme is a small quaint village 15 minutes to the north of the Dartmouth College campus. This quiet, idyllic New England town has a beautiful town common surrounded by businesses and homes and the iconic Lyme Inn. Having gone through extensive renovations in the past few years the Lyme Inn is now a stunning historic building with well thoughtfully designed rooms and the locals not-so-secret, farm to table restaurant in Ariana's. For over 200 years this building has been hosting travelers from near and far, there is a reason it still is popular today. Even though it's off the beaten path, you will be so glad you made the trip to the Lyme Inn.
"What a wonderful Inn. You feel more like a house guest than a hotel guest. Beautiful location, catering staff, lovely rooms & delicious food -- PLUS, dog friendly. Could not recommend this hotel more & we look forward to our next stay at the Lyme!" - Ellie J