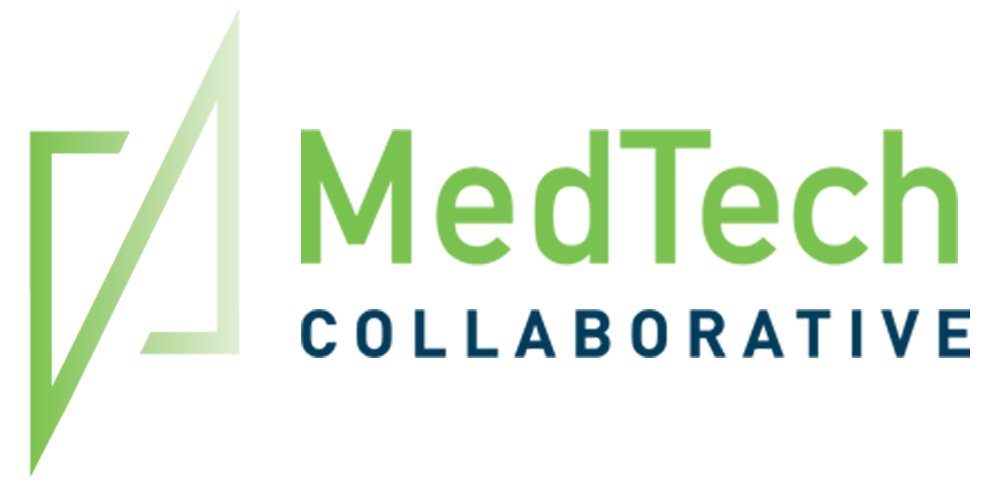 The Upper Valley hosts a thriving medtech community where innovators can work with talented and motivated colleagues to develop new technologies and manage existing operations while supporting a workforce that appreciates the exceptional quality of life afforded residents of Vermont and New Hampshire.
The MedTech Collaborative's Mission And Vision
Mission Statement:
We foster collaboration, raise awareness, and remove barriers to MedTech advancement for the ecosystem of innovators, investors, technologists, and implementers who develop technologies which improve the health of people in our region, nationally, and globally.
Vision Statement:
We see a future where Northern New England has a thriving and collaborative MedTech community.
Core Values:
Respecting the Rural Character of Northern New England

Recognizing our Impact on Economic Development

Supporting Workforce Inclusivity and Equitable Access to Resources
Join us for... An Exchange of Innovation, Ideas, and Practical Knowledge in the Medtech Industry in Northern New England.
SEE OUR PRESS!
MedTech Collaborative Is Launched in the Upper Valley by NH Business Review 4/9/2020
EVENTS & NEWS
May 18, 2021 - We had a terrific Real Ask Roundtable on Tuesday on Navigating the SBIR with Dr. Alan Guttmacher, former Director of the Eunice Kennedy Shriver National Institute of Child Health and Human Development (NICHD) at the National Institute of Health. Reia CEO Kaitlin Maier lead the discussion. Missed it? Check out the recording: http://bit.ly/navthesbir
March 11, 2021 - Presenter Sol Diamond of Lodestone Biomedical gave us an overview of the SBIR Review process. Great discussion and information!
February 3, 2021 - Terrific presentation at today's UVMTC Real Ask Roundtable by Jake Reder, CEO of Celdara Medical, on constructing your pitch deck and getting in front of investors.
January 2021  - Jenny Barba, BioVenture Investors, and Kaitlin Maier, Reia Health, Join UVMTC Steering Committee
The Upper Valley MedTech Collaborative is pleased to announce that Jenny Barba, BioVenture Investors, and Kaitlin Maier, Reia Health, have joined the UVMTC steering committee.
Jenny Barba, MBA, MHSA is a Principal at BioVentures Investors, a MedTech investment fund. Jenny has dedicated her career to working with MedTech companies of all stages. Jenny served as the Chair of Upper Valley Go Red for Women American Heart Association, and as a Board Member of the National Nordic Foundation, in addition to raising awareness and supporting the Dartmouth-Hitchcock Palliative Care Program and the Leukemia Lymphoma Society.
Kaitlin Maier is the CEO of Reia, a healthcare start-up focused on improving the treatment experience for people with pelvic organ prolapse (POP). Reia's first product is a non-surgical treatment option for POP called a pessary. Reia's pessary design enables users to manage their pessary on their own and alleviates pain during insertion and removal. Previously, Kaitlin was an Associate at Sherpa Technology Group, a strategy and M&A firm for technology and IP. She studied mechanical engineering at Dartmouth.
We are excited to Jenny and Kaitlin join us!
Pitch Night! October 22
The Upper Valley MedTech Collaborative held a Pitch Night on October 22, 2020 featuring six medical technology companies located in the Upper Valley region of New Hampshire. These companies have all developed new technologies for medical device or diagnostic healthcare solutions. The event was moderated by Daniella Reichstetter, executive director of the Tuck School of Business Center for Entrepreneurship at Dartmouth College.  Judging the competition was Jenny Barba, BioVentures Investors, Ross Jaffe, Versant Ventures, and Laura Rippy, Green D Ventures.
Participating companies included:
Clairways, a company that uses artificial intelligence to address long term changes in respiratory health. Clairways' CEO is Jeff Bemowski.
CPR Therapeutics which has developed an advance technology device to automate giving CPR. Norman Paradise is founder and CEO.
Insight Surgical Technologies which has developed an intraoperative stereovision for guidance during surgical procedures. Founded by Dr. David Roberts.
Lodestone Biomedical, which is developing treatment-response monitoring tools for the tumor-immune microenvironment. Co-founded by Dr. Sol Diamond.
Nanopath which is developing technology that harnesses bioengineering and nanotechnology to specifically detect viral, bacterial and fungal pathogens in complex biological matrices. Dr. Amogha Tadimety is co-founder and CEO.
Reia, a healthcare startup focused on improving the treatment experience for people with pelvic organ prolapse. Co-founded by Kaitlin Maier.
Several medical investor companies participated and gave their feedback to the presenting companies including A Capital, Altaris Capital Partners, Blue Catalyst Group, Borealis Ventures, Broadview Ventures, Narya Capital Management LLC, Springhood and Think + Ventures, LP.
"Real Ask" Roundtable, September 10
This roundtable will focus on creating an IP strategy but other asks are welcome as well. We are pleased to have Jennifer Blount, attorney with Schwegman Lundberg Woessner, and Tom Kohler, attorney with Downs Rachlin Martin, join us and share their experience and knowledge on intellectual property.
Jennifer Blount is a registered patent attorney who assists companies and institutions in the planning and development of patent portfolios and product lifecycle management. Jennifer's practice focuses on developing IP strategy, preparing and prosecuting patent applications in the area of chemical, pharmaceutical, and biotechnology industries as well as material science. Before beginning her legal career, she worked as a scientist for a large pharmaceutical company. See her full bio here.
Tom Kohler is an experienced, registered patent attorney who has worked with individuals, start-ups, and Fortune 100 companies in diverse technology areas including medical devices, renewable energy and electric power generation, consumer products, Internet and computer products, semiconductor fabrication, and telecommunications. Read Tom's bio here.
"Real Ask" Roundtable, August 5
We had a great Real Ask Roundtable  with participants having an opportunity to ask their burning medtech questions for the group to give feedback. Many thanks to Jenny Barber,  BioVenture Investors and Jayanth Batchu of Novather Inc for their feedback. Our next Roundtable is September 10 and will focus on IP Strategies. #uppervalleymedtech
UVMTC kick off event March 4
The kick off event of the Upper Valley MedTech Collaborative was a success! Over 40 Upper Valley medtech businesses participated and learned about each other's businesses. And we honored the many lifetime accomplishments of Bob Dean, inventor and founder/co-founder of 10 companies including Hypertherm, Creare and many others.
Many thanks to our event sponsors Simbex, Mascoma Bank, Downs Rachlin Martin, the Magnusen Center for Entrepreneurship at Dartmouth, Celdara Medical, Merritt & Merritt, Tyler Simms & St. Saveur CPAs, Lodestone Biomedical and the Montshire Museum.
STEERING COMMITTEE:
Jenny Barba, Features Capital
Jeff Chu, Simbex
Solomon Diamond, Lodestone Biomedical
Don Castle, Thayer School of Engineering, Dartmouth College
Greg Lange, Simbex
Kaitlin Maier, Reia Health
Calvin Gooley, Cicada Media
Tracy Hutchins, Upper Valley Business Alliance
Advisor: Rick Greenwald, Simbex