The Upper Valley Business Alliance is a mission-driven organization that works to promote the economic vitality of the Upper Valley Region of New Hampshire and Vermont. Your membership not only gains you connections and marketing benefits but also helps us to focus on being advocates for all our businesses, organizations and communities. We work on the big picture issues facing our region so you can focus on your business.
Upper Valley Business Alliance Benefits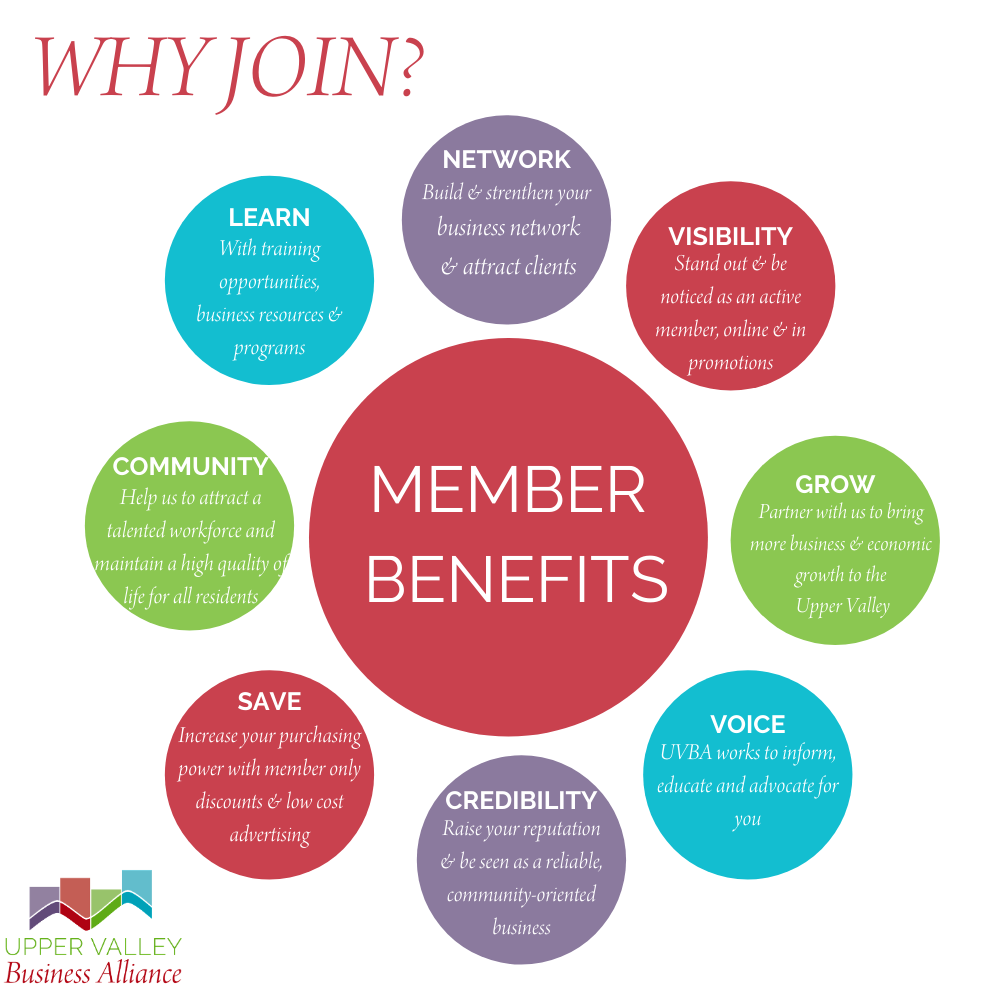 Why Join Us?
No business operates in a vacuum. Whether you are a large business or small, sell globally or locally, you rely on your community for workers, customers and local government services. A robust local economy contributes to the success of every business.
We represent you and all businesses in your community to local, regional, state and federal lawmakers and programs or services.
What Do We Do?
Our business development workshops help you learn new programs, tools and methods to improving your business or saving money.
Our workforce/talent attraction programs such as the Upper Valley Young Professionals, Upper Valley BIPOC Network, Dual Career Network and Meet Up Upper Valley help to attract and retain workers.
Our MedTech Collaborative and Upper Valley Arts Alliance helps to support and grow the technology and arts sectors, both major contributors to our regional economy.
We advocate and serve on boards and committees working locally, regionally and state-wide to solve issues such as housing, child care, labor shortages, and transportation.
What's In It for YOUR Business?
Promotion – we magnify your own marketing by promoting your business on our website (100,000 hits annually), community guide (25,000 copies distributed statewide in NH & VT), Local Upper Valley app (downloaded by thousands locally), Local Upper Valley community newsletter (2300 subscribers weekly), and special events and sponsorship opportunities.
Connections – we help you meet the people you want to meet through networking events, our referral group, references and introductions.
Resources – we are here to help you solve your problem. Our network of partners and connections with finance programs, government/economic development programs and grants, community organizations and fellow members can help you when you need business education, financing, information on labor/employment/new laws, starting or selling a business, and real estate acquisition to name a few.
Memberships are tax-deductible business expenses. Check with your accountant or tax professional.
What one of our members says:
"Wow!! Talk about small business support!! Upper Valley Business Alliance. Tracy, Kristen and Tammi! These ladies jumped right in to our little world and made it much bigger with their creative ideas, tenacity, and just the love they clearly show for their profession and the folks they serve!! Michael Morrissette has said many times- "As a new business - it was the best money & investment we have made so far". Because they CARE! Thank you so much Upper Valley Business Alliance!!"
--Mike Morrisette, Owner, Running Water Recreation Center, Bradford VT